New SIM Card Price
7 Euro
Duplicate SIM Card
2 Euro
Sim Card Life Cycle
Valid
Your prepaid mobile number is Valid from the moment it is purchased, but it's not active until you make your first call. Its validity is 100 days from the day it was purchased. After this period, your SIM card will get deactivated.
Active
From the moment of your SIM Card's activation, a new SIM Card is active for 90 days. After this period, if you don't top-up your account, your SIM Card will become Inactive.
Inactive
The status becomes inactive in case the customer has not purchased any Vala Top-Up products for a certain period of time, determined according to the Top-Up validation period.This status lasts for 15 days and during this state the customer cannot perform the following actions (calls, SMS or mobile data), but is not prohibited to receive calls or SMS.
With the next top-up of values ​​from 1 euro to 50 euros, the status is returned to active, validation period will be extended depending on the top-up validity and the customer will gain access to all Vala Services
Deactive
After the end of the Inactive status period, the account is deactivated and prepared for deletion, but can still be reactivated by paying € 1.50 with the right to credit protection. After the credit protection payment is complete, the account status is returned to inactive status, which then can be refilled with any value to become active. The deadline for reactivation is 14 days, while to be refilled is 7 days.
Every Prepaid Sim Card has two PIN Codes (Personal Identification Number): SIM PIN Code and Account's PIN Code.

SIM Pin Code : Each Vala SIM card you insert into a device has a PIN Code that by default is 0000 (four zeros). Every time you restart your phone, in order for your device to use the sim card, you need to enter its PIN.
Account's PIN : Every prepaid account has its PIN, which usually is 00000 (five zeros) and it can be changed as our customers want (click this link for instructions).This PIN is used to protect your main account and also for safe credit transfers.
PUK: PUK (Personal Unlock Code) is a safety measurement that helps you protect your SIM in case of an unauthorized use.If you enter the wrong PIN Code three times, your phone will ask for a PUK Code instead to unlock your SIM.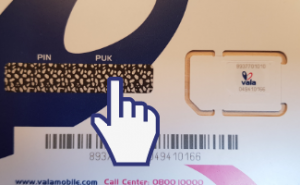 The PUK Code is hidden in the backside of the SIM Card holder by default.If you don't possess that card, you can get help by calling our Call Center (Customer Care) 080010000 free of charge.